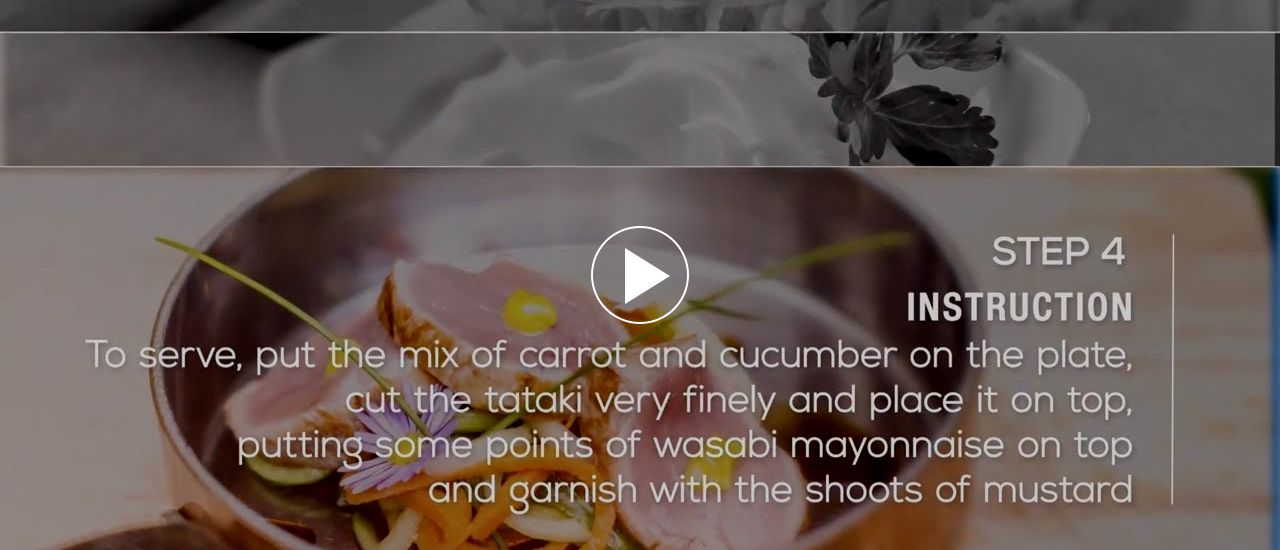 Ingredients:
400 grammes of Iberian pork
2 large carrots
1 Dutch cucumber
250 grammes of wine white vinegar
150 grammes of sugar
150 grammes of soya
50 grammes of rice vinegar
50 grammes of mirin
50 grammes of fresh ginger
100 grammes of home-made mayonnaise, wasabi to taste
Mustard shoots for garnish
Preparation:
Clean the piece of meat of fat and dirt. In a very hot frying pan, seal it well and immerse it in a marinade that we will make with the soya sauce, rice vinegar, mirin and ginger. Keep this mixture for three hours.
Meanwhile, cut the carrot and the cucumber into fine slices, taking the pips out. Cook the white wine vinegar and the sugar, and when it is warm, immerse the cucumber and the carrot.
Put to one side until cold.
Mix the mayonnaise with wasabi to taste.
To serve, put the mix of carrot and cucumber on the plate, cut the tataki very finely and place it on top, putting some points of wasabi mayonnaise on top and garnish with the shoots of mustard.