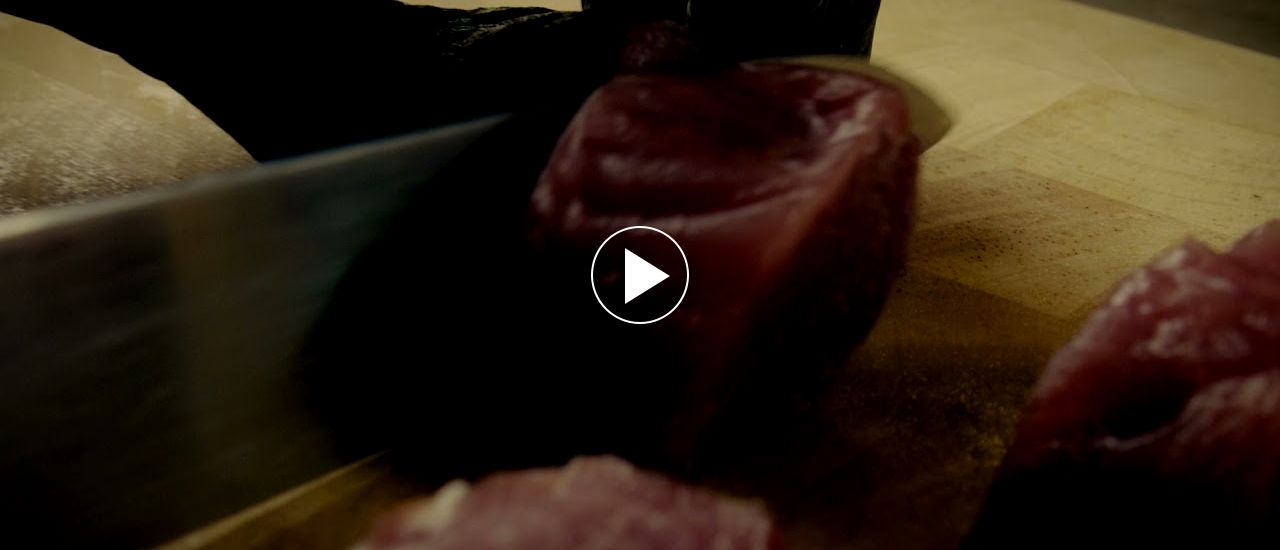 2 People
Duration: 1 hora
Ingredients:
For the blinis:
150 g of flour.
2 eggs
150 ml of milk.
100 g of creme fraiche or sour cream.
14 g of fresh yeast.
5 g of salt.
For the loin:
500 g of Iberian pork tenderloin.
1 kg of smoked salt.
For the meat bearnaise:
5 egg yolks or 150 g of pasteurized egg yolk.
500 g of butter.
50 g of dark background of very reduced meat.
Tarragon vinegar.
Anchovies, capers, fresh tarragon and finely chopped chives.
Mustard sprouts.
Preparation:
For the blinis:
1. Heat the milk, use the egg whites and mix the flour and salt in a bowl.
2. When it is hot, remove the milk from the heat and add the yeast, fresh cream and egg yolks.
3. Add the mixture to the flour slowly and stirring to form a thick dough. Cover it and let it at environmental temperature for an hour until it has increased in volume and has bubbles.
4. Assemble the whites until stiff and incorporate them into the dough with a spatula and let it rest for two hours.
5. Heat a pan over medium heat with sunflower oil and make the blinis with the help of a small ring and let them brown on both sides.
For the loin:
1. Eliminate excess of fat or nerve from the loin.
2. Cover it with smoked salt and leave it in the fridge for 18 hours.
3. Remove it from the salt, wash it and dry it well.
4. Cut it very thin.
For the bearnaise:
1. Heat the yolks in a water bath, add the reduced tarragon vinegar and top with the clarified butter.
2. Once the is assembled, add the meat juice reduction, the anchovies, the chives and the finely chopped tarragon.
Mounting:
On a freshly made blini, place on top of a thin slice of smoked tenderloin, add a little béarnaise sauce and the mustard sprouts.
Come on! You can enjoy this exquisite culinary fusion!