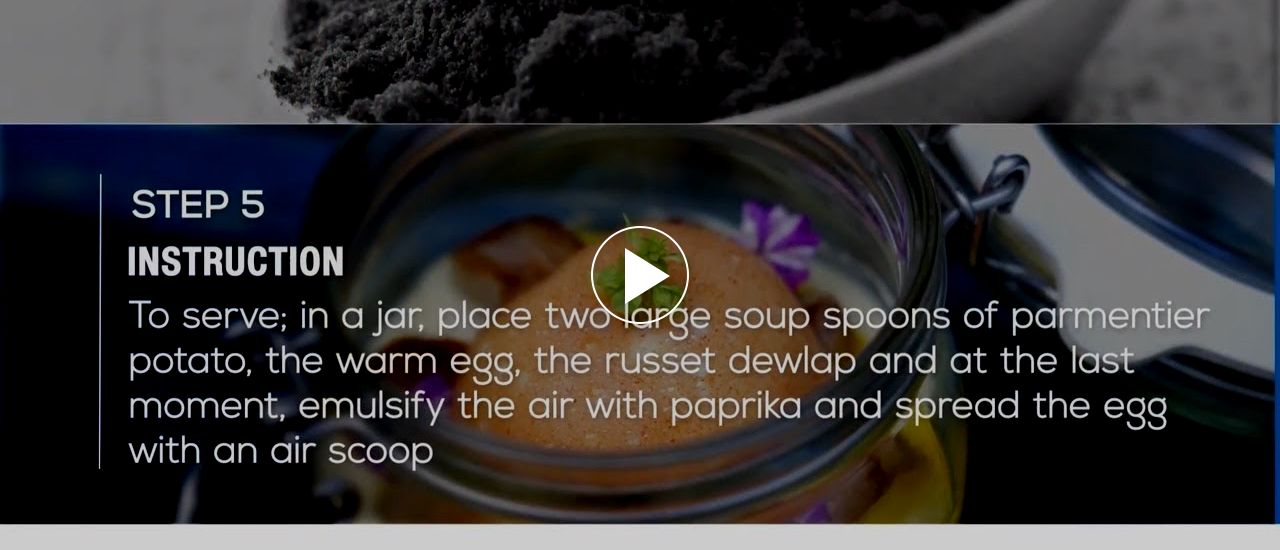 4 People
Duration: 2 h 30 m
Ingredients:
800 grammes of potato
400 grammes of butter
250 grammes Iberian dewlap
Spanish smoked sweet paprika (Pimentón de la Vera dulce)
200 grammes of extra virgin olive oil
4 eggs
6 grammes of lecithin of soya
Preparation:
Cook the potatoes and when hot, make a puré by adding butter with the help of a mixer.
Season with salt and pepper and keep to one side.
Thoroughly clean the dewlap, singeing off the hairs if there are any, cover with olive oil and heat to 90 degrees for 5-6 hours. Cut and toast.
Poach the 4 eggs in plenty of boiling water, with salt and vinegar.
For the touch of paprika, use the juice from the heated potato in proportion: 250 ml of the liquid of cooking, 3 grammes of lecithin of soya and 10 grammes of paprika.
To serve, in a jar, place two large soup spoons of parmentier potato, the warm egg, the russet dewlap and at the last moment, emulsify the air with paprika and spread the egg with an air scoop.