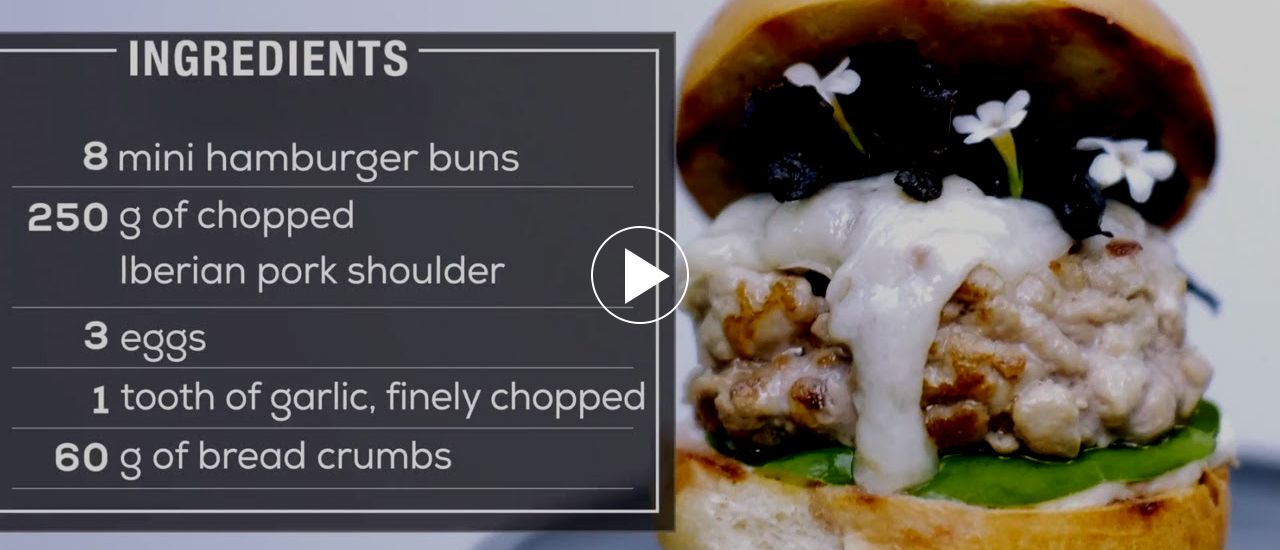 Ingredients:
8 mini hamburger buns
250 grammes of chopped Iberian pork shoulder
3 eggs
1 tooth of garlic, very finely chopped
60 grammes of bread crumbs
100 g of horn of plenty mushrooms
8 thin slices of semi-cured Manchego cheese
50 grammes of hazelnuts
150 grammes of olive oil
Salt, pepper
Preparation:
Mix the chopped meat with an egg, the garlic and the breadcrumbs. Make into the shape of a mini hamburger. Seal in a frying pan and keep for later.
Sauté the horn of plenty mushrooms, season with salt and pepper and keep for later.
Heat the hazelnuts in the olive oil until lightly toasted. With this oil and the two remaining eggs, make up a traditional mayonnaise. Grind up the hazelnuts and add to the mixture.
Toast the mini-buns open in half and melt the cheese over the hamburgers in the oven.
To serve, put a little bit of hazelnut mayonnaise on the base of the buns, then the hamburger with the melted cheese and finish off with the horn of plenty mushrooms.